If you are going through a custody battle, you can flat-out HAVE my "Child's Best Interest Checklist"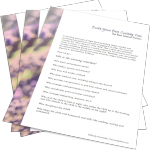 to position yourself to get EXACTLY what you want (yes, equal rights are a realistic possibility). Enter your name and e-mail address below!
Resources for You

Our Best Child Custody Blogs
Learn what not to do in your child custody case. Our best child custody blogs will get you headed in the right direction.
Get informed with our most popular divorce blog posts that cover subjects ranging from property division to spousal maintenance.
The Family Law Insider Podcast features interviews with the nation's top experts on family law and personal development.
Our Services

My First Priority
The only way I can start building a case plan around your family's future is by understanding what you want. I listen more than I talk. I do this because I want to know your fears, your desires and your dreams. I want to see those dreams come true.
My Philosophy
My deepest desire is that you get the best result for your family as efficiently as possible. I look for cooperative solutions instead of creating more conflict. I protect your interests. I want you to be happy. I understand that happiness comes from moving forward in your life on your own terms.
Knowledge is Power
Your case is the most important thing happening in your life right now. I willingly share as much of my knowledge as I can so you can have all the resources you need to make the best decisions for yourself and for your family. With my help, every choice you make in your case will be made knowingly.
The Whole Truth
Nobody can ever guarantee anything in life. Despite what some might say, lawyers can't guarantee results or foretell the future. I can give you examples of past experiences I've had with cases like yours, but in the end, the only thing I can guarantee is that my team and I will do our very best in your case.
It Is What It Is
I won't lie to you just to tell you what I think you want to hear. I will tell you when I think you are being reasonable. And, I will tell you when I think you are being unreasonable, too. Part of my job is to not set you up for failure, and this sometimes involves sharing some hard truths. I only do this to save you from future pain.

What Do You Need?
Different clients have different needs. Some need a lot of emotional support. Others don't. Some need to talk to me a few times a week. Others don't. Some just need my help with preparing paperwork. Others want me do to do "everything" in the case. I adjust to meet your needs. What is it that you need?
Client Love

No words or expressions can adequately convey the significance of what you have done for me. Your efforts will have a profound effect on my life and more importantly on my son's life. Due to your involvement, my son and I will have a chance to pick up where we left off. Best of all, he will have the opportunity to grow up knowing his father. I sincerely appreciate your sage advice on not to give up on my son and guidance through a very long, arduous and emotionally demanding experience. I was impressed and grateful in how diligently you represented me during my court hearings. Particually on the witness stand and cross-examination. You definitly know the legal system. I belived I had no chance in regaining custody of my son with my past and current acctions but your legal expertise showed otherwise. 
– Jesus Preciado, a child custody client
Wendy represented me in several matters over the past 2 years, including child support enforcement and custody. My case eventually ended up in a trial. Wendy is thorough and I always felt she was genuinely invested in myself, my daughter and my case. Her trial strategy was fantastic. She was smart, assertive, sharp and powerful. I could not have asked for anything more. The results of the trial fell in my favor, more than I ever imagined it would, thanks to Wendy and her staff. I would recommend Wendy and her firm to anyone.
-Lauren, a child custody client
If you need a lawyer for family matters, the Hernandez Law Firm is THE firm you want on your team. They all are very competent, professional and thorough. . . . I trusted the Hernandez Law Firm with my life, and they took precious care of it. I am indebted to them for how positive and well supported I am and will be when I come out on the other side of this dark journey. I hope that no one ever has to go through what I did, but if divorce or any family matter falls upon someone, I highly recommend the Hernandez Law Firm.
-David "Smitty", a divorce client
Wendy Hernandez is a first rate child custody lawyer. I met her when she was opposing counsel in a custody case. I admired her trial skills and courtroom demeanor. My family hired her to handle a difficult child custody trial, she did an excellent job. She and her staff were caring and competent.
-Suzanne, an attorney
We received a great result with Wendy. She was honest and upfront with us about our case. We got what we wanted and we would recommend her to anybody that is going through a custody battle.
-Miguel, a child custody client
Your firm has done a wonderful job. Your staff are very knowledgable and courteous and answered all my questions in a timely manner. This case with my ex-wife and daughter was very difficult for me and your staff made a difficult situation flow smoothly. Both Jeanine and Elaine were great. I highly recommend your firm.
-Oney, a child custody client.
As a Grandmother I watched my son worry himself sick. He was unsure if he was going to be able to raise his son. However Wendy's law firm was very upfront and honest with us. My son did everything he needed to keep his son. I am happy to say we won the case. I would like to thank Jeanine and Elaine also for being very helpful and knowing what we were going through.
-Donna Gonzales
Wendy was highly recommended by Eldon Hanson, our personal injury lawyer. Wendy was very reassuring. She put our minds at ease immediately. Especially when my son was removed from my babysitter without my permission. Wendy acted very quickly and I got my son back the next day, for that was the worst moment of my life. 
-Buford, a child custody client
Wendy Hernandez is a great attorney. I say this because my family uses her exclusively and we have had wonderful results with her efforts. She advises us honestly. She has a conscience. Her demeanor is calm and sweet, yet she is sharp and very effective in the courtroom. We have had the opportunity to see Wendy in action (thankfully for us) and she is a force to be reckoned with. Wendy understood our position and was able to convey that clearly to the judge, she was a fierce navigator during trial and her determination and skill resulted in judgment for my family.
-Shannon S., a child custody client
I would highly recommend Wendy and her staff. Wendy is very knowledgable and available at all times I needed her. She looks out for you and your best interest, not only as a client but as if you were family. The staff is very professional and helpful. I liked the idea of a small firm. In a large firm I felt I would be a case number not a person. She truly cares for her clients and serving the client to the best of her ability. She is one awesome, powerhouse woman.
-Anna, a divorce client
Divorce is not easy on couples. I was honestly very fearful of the unknown. After 35 years of marriage, it was the last thing I wanted to do. I was referred to Wendy with outstanding reviews and accolades. From the first day I met Wendy and her staff they made me feel comfortable and at ease. They were professional and friendly at all times. Her staff Jeanine and Elaine were absolutely amazing. I can't thank Wendy and staff for walking me through scenarios and representing me during tough times. They elevated my spirits when I felt down. At the end, I was very pleased with the settlement. In tough times, I highly recommend The Law Offices of Wendy Raquel Hernandez and her staff.
-A divorce client
Wendy and her team were such a pleasure to work with! Divorce is a very hard experience, but Wendy and her team held my hand through the whole experience and made sure everything came out fair. I never had to worry if things were being done right, because of their professionalism throughout the whole process. They were so full of kindness and compassion.
-Sarah, a divorce client
The advice and service that was received was in my opinion second to none. Their responses to questions were answered in a timely manner. The time spent on my case was reasonable for what was needed, (not trying to add time just for billing reasons). During trial Wendy was straight to the point in her questions on both sides and did not back down on the hard questions that needed to be asked. Her advice was sound, performance was strong, not flawed and in the end the court ruled in a fair settlement for my side. I would absolutely recommend the firm and her services to anyone needing a family attorney. If in the future if I need more help on my case I will not hesitate to contact her firm. I highly recommend her firm to anyone needing help in any family matters. In my opinion you will not be disappointed with her legal advice and representation.
-Kevin, a child support client
Need More Information? Let's set up some time to talk.
Whether you need just to meet to gather information or because you are serious about hiring an attorney, a consultation will get you started off on the right foot and in the right direction. Let's talk about your situation.
Click Here to Connect!